Book Your Lighthouse Tour
Brief History of the Oswego West Pierhead Lighthouse
The Oswego West Pierhead Lighthouse was built to improve upon and replace the existing lights of Oswego Harbor in 1934. Still an active aid-to-navigation for Lake Ontario sailors, the Lighthouse is representative of the City of Oswego's rich maritime history, heritage, and culture. The Lighthouse was built as part of an extensive harbor enlargement project that involved the construction of new arrowhead breakwaters and enlarged anchorage. Designed by the Superintendent of Lighthouses, 10th District of Buffalo, NY in 1932-33, the Lighthouse was placed at the end of the new west-arrowhead breakwater nearly one-half miles offshore into Lake Ontario which required special engineering to withstand the high winds, heavy surf, and destructive ice common to the Lake. The St. Lawrence Seaway, completed in 1969, opened the Port of Oswego Authority to larger ocean-going freighters which further enhanced the need for continued and reliable aids-to-navigation. The lantern was automated in 1969 - ending the era of light-keeping as a profession in Oswego - and the original fourth order Fresnel Lens was removed and placed in the care of the Maritime Museum in 1995.
Today, in partnership with the City of Oswego, the H. Lee White Maritime Museum at Oswego serves as the steward of the iconic and historic station. Since 2012, our all-volunteer crew has worked tirelessly to restore the interior of the station, scheduled for completion in 2020. In 2018, the exterior of the Lighthouse was completely renovated above the caisson level.
Tours to the Oswego West Pierhead Lighthouse
The H. Lee White Maritime Museum offers tours to the Oswego West Pierhead Lighthouse between mid-June and September of each year. Tickets are $30 per person, or $20 for ages 12 and under. Reservation required. For more information on dates and availability, visit our tour page.
Visitors to the Lighthouse should plan to spend roughly two hours (including transit) for their experience and our captains reserve the right to cancel or cut-short any trip due to weather or safety concerns.
Oswego Lighthouse Rules
The captain is in charge while underway
Not recommended for children under 5 years of age
Children under 12 MUST wear a life jacket during transit
All children under the age of 18 must be accompanied by an adult
There are no restrooms at the Lighthouse
Please arrive 15 minutes prior to departure
Flat, rubber-soled shoes highly recommended
No smoking, alcohol, or food is permitted on site
The Lighthouse is not fully accessible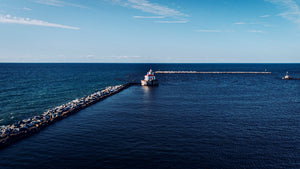 Support The Maritime Museum

There are many ways to support our organization through financial contributions, & donating just became a lot more simple.